Helping cats and dogs live their healthiest lives.
Congratulations
on your new Puppy!

Sign up with the Healthy Pets Club and receive

• Free bag of ROYAL CANIN puppy food
• 25% off voucher for your first purchase
• Second 25% off voucher following your first purchase

* T&Cs apply. Voucher 1 will be issued on registration (valid for 4 months) Voucher 2 (valid for 6 months after registration) available 15 days after initial registration, subject to confirmation of purchase made using Voucher 1. Vouchers redeemable via select stores on select products.

See full T&Cs here

.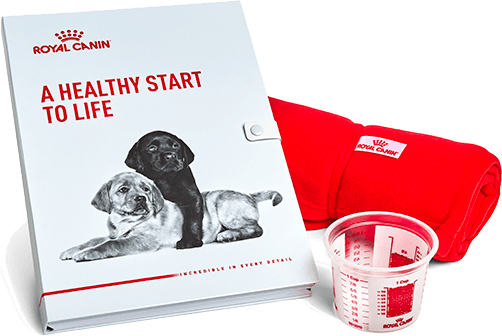 You can find out how Mars Petcare and its affiliates https://www.mars.com/made-by-mars/petcare collects and processes your data, contact us with privacy questions, and exercise your personal data rights via the Mars Privacy Statement https://www.mars.com/privacy.
Puppy Kitten Pack – Free Bag Promotion
This offer ("Offer") is made by Royal Canin New Zealand, of Building 14, 666 Great South Road, Ellerslie, Auckland, New Zealand 1051, a branch of Royal Canin Australia Pty Ltd (ABN 88 092 020 178) is the Promoter. ("Promoter").
Offer available only to "Eligible Claimants". An "Eligible Claimant" is an individual who:



is a resident of New Zealand aged 18 years, or older;
has received a Puppy or Kitten Pack from their pet's Breeder with a unique code;
is a member of the Royal Canin Healthy Pets Club (or registers as a member of the Royal Canin Healthy Pets Club at the time of claiming the Offer); and
is not a member of the Australian or New Zealand Royal Canin Breeders Club

Claiming the Offer constitutes acceptance of these terms and conditions.
To claim the Offer an Eligible Claimant must use a compatible browser to visit https://www.promos.royalcanin.co.nz/mypuppy or https://www.promos.royalcanin.co.nz/mykitten and follow the directions there to provide the requested details, including the claimant's valid email and postal address.
The Offer is one free bag of Royal Canin Junior, Puppy, Babycat, Kitten or Growth product (min. weight 2kg, max weight 4kg) (Free Bag). The Free Bag type will be automatically allocated based the pet's details entered at the time of registration and may not be changed after registration. An Eligible Claimant whose claim is accepted will be sent an email that confirms the acceptance of their claim and postage/tracking details.
The Prompter may amend these published terms and conditions and/or revoke the Offer at any time without notice. If these terms and conditions are amended, they will come into effect on the date they are published.

Redemption

The Free Bag may only be redeemed at https://www.promos.royalcanin.co.nz/mypuppy or https://www.promos.royalcanin.co.nz/mykitten
Limit of one (1) Free Bag to each Eligible Claimant per unique code/pack. Each Offer is not transferable and cannot be redeemed: (i) more than once; or (ii) for cash.
Limit of two (2) packs (and unique codes) per household in a 24 month period.
Voucher 1



Voucher 1 will be automatically emailed to the Eligible Claimant after registration and is valid for 4 months from date of issue.
Valid for 30% off one full priced ROYAL CANIN® product in the Kitten, Puppy, or Junior range, including Vet Maintenance diets. Valid at participating retail stores and online retailers only. Valid for use on therapeutic diets, when following a recommendation by a Veterinarian or Veterinary nurse. Included products are as follows: Canine Dry, all bag sizes: Boxer Puppy, Bulldog Puppy, Chihuahua Puppy, French Bulldog Puppy, German Shepherd Puppy, Golden Retriever Puppy, Labrador Puppy, Miniature Schnauzer Puppy, Poodle Puppy, Pug Puppy, Rottweiler Puppy, Shih Tzu Puppy, Mini Puppy, Medium Puppy, Maxi Puppy, Giant Puppy, Giant Junior, Mini starter, Medium starter, Maxi starter, Neutered Junior Medium Dog, Neutered Junior Large Dog. Canine Wet: Mini Puppy, Medium Puppy, Maxi Puppy, Starter. Feline Dry, all bag sizes: Maine Coon Kitten, Persian Kitten, Mother & Babycat, Kitten. Feline Wet: Mother & Babycat, Kitten. Excludes Professional bags, Medium Puppy 16kg and Maxi Puppy Active 20kg. Valid only at point of purchase. Not valid at shows or exhibitions. Not valid with any other offer and not redeemable for cash. Limited to 1 voucher per customer per household. Valid in New Zealand only. Royal Canin Australia Pty Ltd (NZCN 2331868), 14/666 Great South Road, Auckland, New Zealand 1051 is the Promoter. Voucher is valid 4 months from date of issue.

Voucher 2



Voucher 2 is available for redemption 15 days after initial registration, and can be claimed by entering in the details of the purchase made using Voucher 1. Voucher 2 is available for redemption by the Eligible Claimant for a period of 6 months from initial registration date.
Valid for 25% off any one full priced Royal Canin product including Vet Maintenance diets. Valid at participating retail stores, veterinary clinics and online retailers only. Valid for use on therapeutic diets, in clinic, when following a recommendation by a Veterinarian or Veterinary nurse. Excludes Professional bags, Medium Puppy 16kg, Maxi Puppy Active 20kg and Energy 4800 20kg. Valid only at point of purchase. Not valid at shows or exhibitions. Not valid with any other offer and not redeemable for cash. Limited to 1 voucher per customer per household. Valid in New Zealand only. Royal Canin Australia Pty Ltd (NZCN 2331868), 14/666 Great South Road, Auckland, New Zealand 1051 is the Promoter. Voucher is valid 6 months from date of issue.

Delivery of goods to you

The Promoter will deliver the Free Bag to the address provided at the time of sign up.
Eligible Claimants will become the owner of the Free Bag when upon delivery to the address specified in condition 4. Once the Free Bag has been delivered it will be held at the Eligible Claimant's own risk and the Promoter will not be liable for their loss or destruction.
The Promoter will only deliver to physical addresses in New Zealand. A tracking number will be provided via email, please use this number to track the delivery.
All deliveries are made Signature not required (Authority to Leave) – if the claimant is not available at the time of delivery the goods will be left at the delivery address at the claimant's risk. For the avoidance of doubt, the Promoter will not be responsible for any goods left at the claimant's designated delivery address.

PRIVACY

The Promoter (Royal Canin, we, us or our) collects your personal information via this entry form when you submit your claim for the Offer. We collect this personal information for the purposes of you claiming the Offer (which may include providing your personal information to service providers for fulfilment of the Offer), and to send you marketing communications about our brands, products and/or services in the future, including as part of the Royal Canin Healthy Pets Club. We may also use the personal information you give us for consumer care and research purposes, and for other purposes, as described in our privacy policy.
If we do not collect the personal information you have provided in the entry form, you will not be able to claim the free bag and may not be able to receive communications about our brands, products and services which may be of interest to you. We may disclose your personal information to our family of companies and to our vendors or service providers. These companies may be based overseas, including in France or Singapore. We require these companies to comply with New Zealand privacy laws that apply to your personal information.
Our privacy policy at https://www.mars.com/privacy-policy contains information about:



How you may access the personal information that is held by us and seek correction of such information; and
How you may complain about a breach of the New Zealand Privacy Principles, or a registered privacy code that binds us, and how we will deal with such a complaint.

If you need to contact us, or have any questions, please use the online contact form or email

[email protected]

or our pet health nutrition team

[email protected]

or call 0800 420 016.
The ROYAL CANIN® Healthy Pets Club ("the Club") offers registered pet owners access to the latest information and advice about pet health, nutrition and our latest promotions and events. Pet owners will be issued an account where they can maintain their pet details. By registering you are accepting the terms and conditions set out below as well as our Privacy & Copyright terms.
The Club is a membership program accessible to cat and dog owners that meet the eligibility requirements set out in clause 2. To register to the Club you must join here. Membership will only be activated upon confirming via email validation.
As per our standard terms and conditions Club membership is only open to:



1. Persons aged 18 and over; and
2. Residents of New Zealand,

on a one account per person basis.
Royal Canin reserves the right to refuse Club membership at its sole discretion.
Royal Canin reserves the right to amend or terminate the Club for any reason, at any time, and at its discretion.
All personal details provided by you must be correct and it is your responsibility to inform Royal Canin of any changes via the Club account login. You agree that Royal Canin cannot be held liable for any losses due to missing or incorrect data or other such occurrence.
Membership of the Club is non-transferable and must only to be used by the registered Club member.
Club members wishing to close their Club membership may do so by deregistering their account via the Club account login or by contacting Royal Canin via email at:

[email protected]

with the subject line: "De-register my ROYAL CANIN® Healthy Pets Club Account".
Abuse or misuse will not be tolerated and Royal Canin reserves the right to remove, recall, decline, withdraw or suspend any Club membership for any reason, at any time, and at its discretion.

PRIVACY

ROYAL CANIN® (Royal Canin, we, us or our) collects your personal information via this entry form to validate your registration into the Club. We collect and use this personal information to send you marketing communications about our brands, products and/or services. We may also use the personal information you give us for any other purpose of the Club, including to provide prizes, for consumer care and research purposes, and for other purposes, including as described in our privacy policy. By registering for the Club, you consent to our collection and use of your personal information in this manner.
We may disclose your personal information to our related bodies corporate, to our vendors or service providers, or to other third parties for the purposes of the Club. These companies may be based overseas, including in France. We require these companies to comply with the New Zealand privacy laws that apply to your personal information.
Our privacy policy at https://www.mars.com/privacy-policy contains information about:



How you may access the personal information that is held by us and seek correction of such information; and
How you may complain about a breach of the New Zealand Privacy Principles, or a registered privacy code that binds us, and how we will deal with such a complaint.

If you need to contact us, or have any questions, please use the online contact form or email our pet health nutrition line.